Using satellite imagery and physical models, I analyze and characterize how Antarctica's largest meltwater systems evolve in space and time. My focus is studying what happens to Antarctica's streams and ponds as ice flows faster and global climate warms.
jump to
ANALYZING "BIG" GEOSPATIAL DATA FOR GLACIOLOGY APPLICATIONS
Using the cloud-based platforms (Pangeo, Google Earth Engine) to analyze large datasets of surface processes, the Reference Elevation Model of Antarctica and Landsat archive. I have been assessing surface hydrology with a simple water routing model using RACMO2 snow-melt input in order to measure climate versus topographic controls on surface drainage.
GoogleEarth Engine
Example of Pangeo work-flow
REMOTE SENSING OF MELTWATER DRAINAGE ON ANTARCTIC ICE SHELVES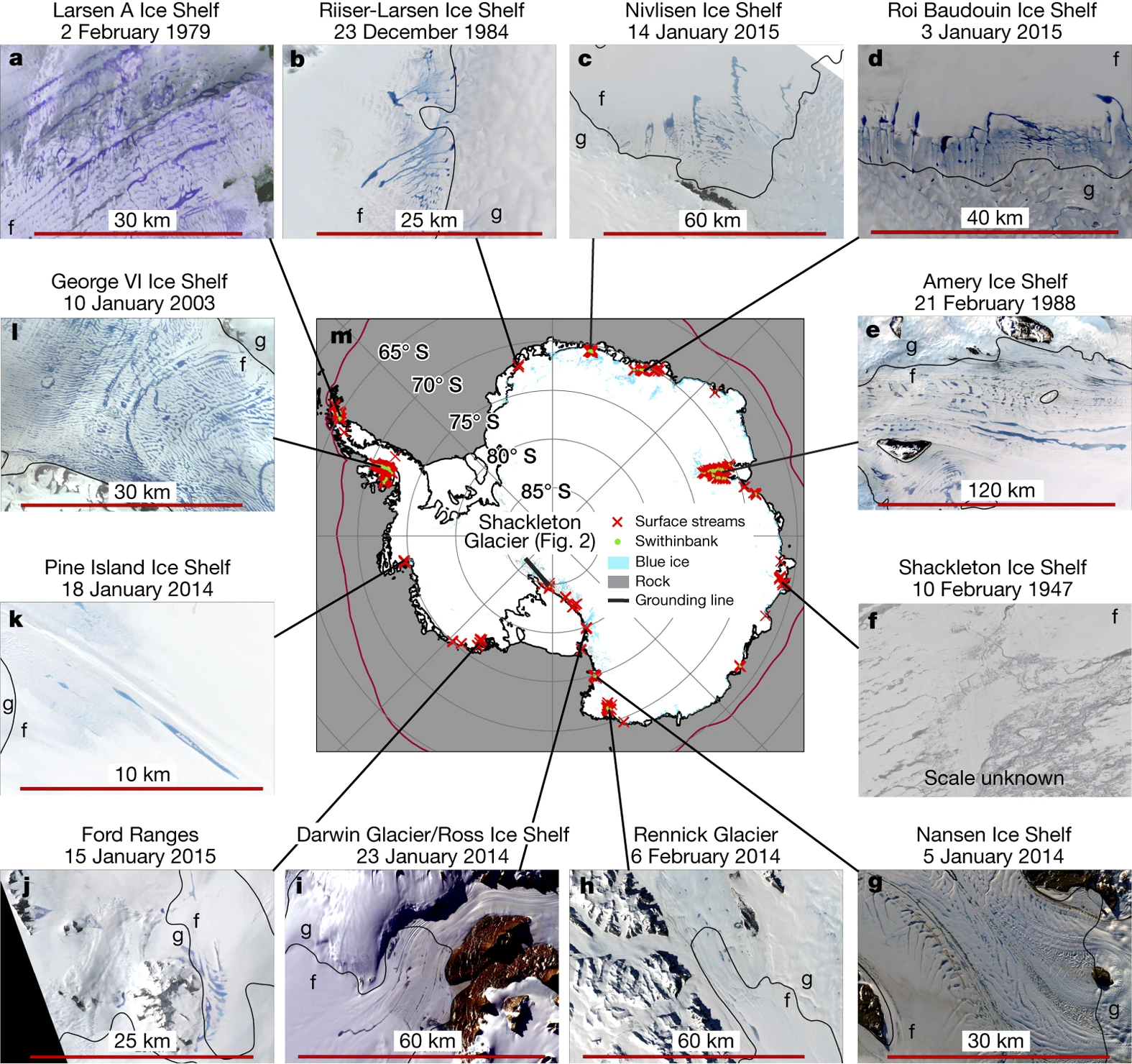 Using optical and Synthetic Aperture Radar images, I analyze the multiyear evolution of meltwater lakes on the Amery Ice Shelf, East Antarctica. I theorize mechanisms of ice shelf – meltwater interaction and how these mechanisms may affect ice shelf in a warmer, wetter Antarctica.
A map of where the Amery Ice Shelf is:
It became clear that optical imagery was not enough to understand how these systems evolved. I used spatiotemporal patterns in the radar backscatter to investigate how the melt-lakes froze or remained liquid during the austral winter – potentially the first time that this method was used in polar surface hydrology!
Ice-shelf wide composite SAR backscatter intensity images from summer (February), fall (May), and spring (September) are created by averaging the backscatter values of Sentinel-1 SAR 30 m resolution images between 6–15 February 2017, 6–15 May 2017, and 6–15 September 2017. Here, we show the February composite image with insets displaying the backscatter intensity of a few lakes across the three seasonal images, with some of the lake margins mapped from the 3 February 2017 Landsat 8 image. All SAR images are shown with the same gray scale. We interpret lakes that appear as solid, relatively lower (darker) backscatter as frozen through. The upper lake in the cyan inset retains some exposed liquid water in the February image, visible as a very dark backscatter in the upper lake. We interpret lakes with an area of high (bright) backscatter within their margins as having a floating lid of ice above liquid water. (from Spergel et. al 2021)
Water Routing/Physical Modeling
I used the products of my REMA filtering work to create an idealized
Using a simple, bucket-filling model for water routing built in Matlab using TopoToolbox, we can analyze what controls drainage network expansion.
---
Follow My Research
Get new content delivered directly to your inbox.